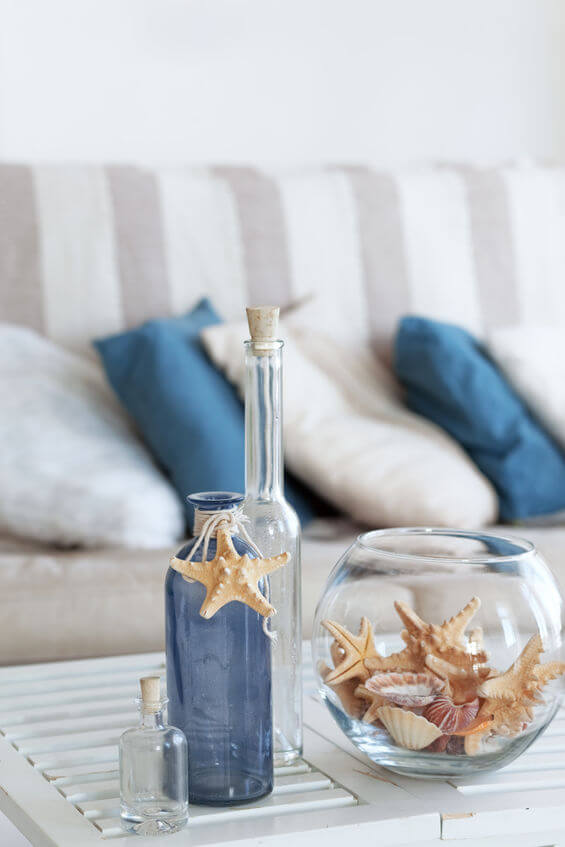 Some home styles feature a lot of heavy details or intricate embellishments. Others opt instead for the austerity of clean lines and minimal decoration. Then there are interior design styles that strike a happy medium with a balance of comfort and cleanliness. Coastal design falls into this category.
Where did this design style originate and how has it evolved? Are there different types of coastal design? What are the typical hallmarks of the style and how can you make it your own? Here's what you need to know if you plan to adopt the coastal design style in your own home interior.
A Brief History
It's difficult to say where, exactly, the concepts and hallmarks of beach homes first took root, but the first place the style we now know as coastal design was widely adopted was in the Hamptons, a high-end stretch of homes dotting the south end of Long Island in New York. This trendsetting area, which hosts the summer homes of New York City's upper crust, began as a farming community in the 19th century.
By the turn of the 20th century, wealthy New Yorkers were already starting to build opulent homes along the coastline to escape from the hustle and bustle of the city. Soon it became a high-priced and exclusive vacation spot, complete with homes featuring a unique, beach-inspired design style characterized by a light and airy aesthetic perfect for the carefree beach lifestyle.
Types of Coastal Design
When we talk about coastal design, we're typically referencing the American style, but coastal design could also pertain to Mediterranean or island styles. Common to Greece, the Mediterranean coastal style is characterized using plaster walls and tile floors, predictably, but also elements like terra cotta, natural wood, iron detailing, and carvings.
The island coastal style found largely throughout island nations of the Pacific Ocean, is punctuated by bright colors, tropical prints (palm fronds, hibiscus flowers, etc.), and teak. Even the American style can be broken up into the traditional, cottage style and more contemporary approaches, but the standbys remain largely the same, while the styling may differ slightly.
Hallmarks of the Style
Like many design styles centered on a geographic region, the coastal style borrows elements from the environment, which is why American coastal design begins with a sun-blasted, whitewashed base with layers of sandy colors and pronounced textures—think weathered wood and woven grass rugs. A lot of light is also a necessity, which is why most coastal homes have an abundance of windows.
An open floor plan enhances the bright and airy aesthetic common to this style, which is accented with comfortable furnishings and pops of bold color (navy blue and canary yellow is a classic coastal color combination). Of course, there are also nautical touches like rope, netting, glass fishing floats, and ship parts (oars, ship wheels, etc.), as well as shells and beach or ocean-inspired artwork.