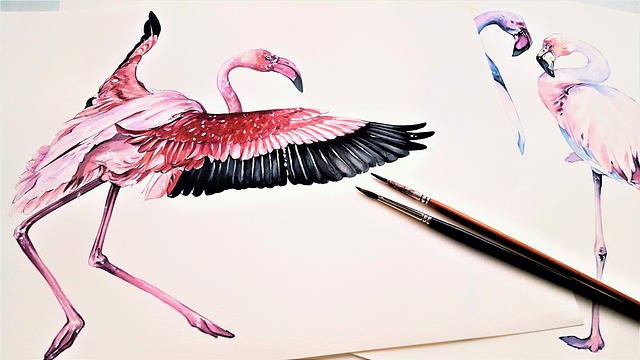 The 1950s ushered in a process by which manufacturers began to create everyday gadgets and goods: injection mold technology. Factories in Leominster, Massachusetts, thrived, and it was duly nicknamed Plastics Capital of the World. There, Union Products began producing a timeless favorite yard ornament: pink flamingos. Yard ornaments, in general, were as popular then as they are today. People like adding decorations to their landscaping to express their personalities, as well as to make their homes stand out among others in the neighborhood. Standing out was particularly important to homeowners following WWII. The demand for affordable housing soared, prompting developers to construct large neighborhoods quickly. For this reason, it was common for them to be filled with homes similar to each other inside and out. Sticking a pair of kitschy pink flamingos in the yard was whimsical and utilitarian; guests could be told to look for the house with the pink flamingos.
Don Featherstone: The Father of the Flamingo
Union Products' employee Don Featherstone designed the pink flamingos from pictures he found in the magazine National Geographic. Following his training at art school, Featherstone established a career with Union Products that lasted until his retirement. During the course of his career, he created hundreds of sculptures to be used as lawn ornaments and gardening accessories. In addition to the flamingos and various animals, Featherstone created Santas, snowmen, and other holiday yard decorations. The flamingos, however, were the most popular, eventually selling about 20 million units. Featherstone himself displayed 57 in his own yard each summer; the number signified the year 1957 which was when his flamingos were born. A pair of original polystyrene flamingos cost consumers just $2.76. Today's pink flamingos are no longer produced by the defunct Union Products; still, they are made by other plastic manufacturers who followed Union Products' lead in changing the type of plastic used. Although polystyrene is durable, its color fades easily. People buying pink flamingos want the color to last. Polyethelene has made that possible for the bird lovers.
The Death and Resurrection of the Pink Flamingo
Since their inception, pink flamingos have been both adored and despised. As times changed and the hippie culture became prevalent, plastic products were scorned. People were living in an era where there was pressure to embrace all-natural goods instead of items created by mass production. When Sears dropped pink flamingos from its catalog, it looked as if the demise of the pink flamingo was certain. The lull in sales was temporary, for the pink flamingo flocked to yards in the '60s when artist Andy Warhol influenced the world to embrace pop culture as art. Likewise, filmmaker John Waters' cult classic Pink Flamingos inspired a similar appreciation with its 1972 release. While the movie's subject doesn't focus on the ornament, it seemed to boast of the pink flamingo's resilience—no matter how many neighborhoods banned their placement from homes within them!
Pink Flamingos in Contemporary Culture
People love their pink flamingo yard ornaments for all sorts of reasons. They're playful, they're cute, and they make them feel as if they are someplace coastal or tropical, even if they reside in a colder climate like Madison, Wisconsin. Surprisingly, the city of Madison made the plastic pink flamingo its official bird! Pop culture seems to always have a place for the pink flamingo. The animated children's movie Gnomeo and Juliet features a flamingo character aptly named Featherstone after the ornament's creator. Fly at Tampa International Airport and it's unlikely that you'll miss seeing the 21-foot tall hand-sculpted pink flamingo recently installed by artist Matthew Mazotta. The artwork, called HOME, spans from floor to ceiling. The resin and fiberglass sculpture simulates a dipping head of a flamingo underneath the surface of water.
The general public create art with their own plastic pink flamingos, too. Commonly, people take pictures of theirs in unlikely places: in the desert, on snowcapped mountains, or even at a fast-food drive-thru. Some people dress theirs in outfits; others wear outfits decorated with pictures of pink flamingos. One group with a great affinity for the pink flamingo is Pledge the Pink. Using its mascot, the group raises breast cancer awareness. During last year's event at Fripp Island Resort in St. Helena, South Carolina, a Guinness World Record was set for having the longest line of garden flamingos: 3,753.
In Conclusion
You can still by pink flamingos in stores and on-line today. Now, they come in different colors. Shop for them around Halloween, and you'll find zombie versions. For Christmas, trade Santa's reindeer for a team of flamingos!