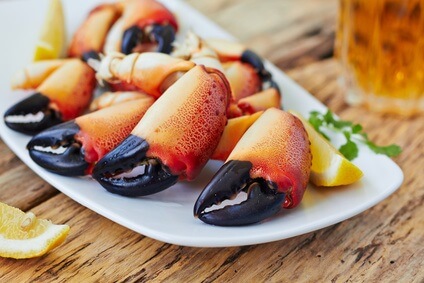 More than 4,500 species of crab exist worldwide, each with its own distinct flavor. In American coastal cities, where crabs are such a popular dietary staple that entire festivals are dedicated to devouring them, preparation and servicing methods have a strong regional slant. From Baltimore crab cakes to Alaskan king crab legs, there are almost as many crab dishes as there are species!
On the East Coast
The blue claw crab predominates in the states along the Eastern seaboard. Famed for their sweet, delicate meat, they abound in areas like Chesapeake Bay, which hosts the country's largest estuary. Another species relished for its claw meat is the Jonah crab, which is a common component of crab cocktails.
When it comes to preparation, East Coasters prefer to coat live crabs in Old Bay, J.O., or another savory-spicy seasoning and steam them in vinegar, beer, and/or water. Maryland-style crab cakes and steamed crabs doused with garlic and butter are also relished at celebrations such as the Chesapeake Crab and Beer Festival or New York's Hammer and Claws Festival
The most widely recognized crab dish to emerge from East Coast culinary tradition is the crab cake. Evidence suggests that this regional specialty has been popular since colonial days, when English settlers adapted traditional meat patty recipes to include crabs. The term "crab cake" dates back to 1939, when the New York World's Fair Cookbook called them "Baltimore Crab Cakes."
She Crab Soup, which originated in Charleston, South Carolina, is another celebrated East Coast recipe. Described as a cross between a chowder and a bisque and made from crab roe (eggs), it is accepted as the city's signature dish. Food historian, John Martin Taylor, wrote that She Crab Soup derives from a seafood bisque called Partan-bree, which was introduced by Scottish settlers when they arrived in the Carolinas during the 1700s.
In Florida, stone crab claws are a culinary fixture everywhere, and not just because of their salty-sweet taste. Unlike their blue claw cousins, though, stone crabs are harvested strictly for their claws, which they can regenerate up to four times during their lifetime. In Florida, harvesting live crabs is illegal; after its claws are taken, the crab must be released.
Due South
In the communities along the Gulf Coast, crab boils are a time-honored social event. In Louisiana, crabs are cooked in huge pots of boiling water, along with special seasoning bags, onions, garlic, potatoes, corn, shrimp, and even sliced lemons for a spicy-sour and full-bodied taste. Participants spread newspapers on tables and, after straining everything, pour the crabs and vegetables directly onto the table. Plates are optional: most people simply eat the food right off the table, breaking open shells with their hands or a crab cracker.
Barbecue crabs are enjoyed all over the country, but they originated at a seafood restaurant called Grangers in Sabine Pass, Texas, during the late 1940s. One of the establishment's cooks coated a blue claw crab with zesty homemade seasoning and deep fried it. The result was so delicious that it's been made ever since. What's unusual about this recipe is that the crabs are not barbecued, per se; the name comes from the barbecue-like seasoning that was originally used.
Out West
On the West Coast, the Alaskan king crab made famous by reality shows like "Deadliest Catch" is a staple of all-you-can-eat seafood buffets. Dungeness crabs are also popular, especially in Southeast Asian restaurants in California and Washington. West Coasters prefer to roast crabs whole, infuse them with black pepper, butter, and garlic, or simmer them in wine sauces.
In terms of traditional dishes, Crab Louie Salad has been served in restaurants and households since the early 1900s. Some credit its origin to the chef at Seattle's Olympic Club in Washington. In 1904, when the Metropolitan Opera Company played in Seattle, celebrated tenor Enrico Caruso kept ordering the salad until the restaurant's kitchen ran out.
Although variations have developed over the decades, all typical Crab Louie Salads consist of crab meat, hard-boiled eggs, asparagus, and tomato served on a bed of iceberg lettuce with a creamy dressing on the side.