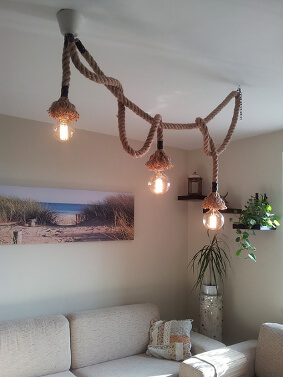 The mass appeal of nautical decor isn't difficult to understand. Humans, since the dawn of time, have always been drawn to the ocean. It's an innate part of the human experience. In fact, you don't have to go far to find stacks of studies that show time spent near bodies of water are good for our mental (and even physical) health. It's natural, then, for us to be drawn to the natural colors and textures present in nautical decor. That relationship with the sea has an endless appeal.
Now, if you wince when you hear the term "nautical decor," it's likely that you've been exposed to an abundance of over-simplified coastal-themed rooms. We, of course, would never tell you to just buy anything with a starfish or anchor on it. When done well, nautical decorating is so much more than slapping a lighthouse on something and calling it coastal.
Defining Nautical Decor
Okay, so if we know what nautical decor is not, then the question becomes, "What is nautical decor?" At its most basic, nautical decor is just design that elicits the sea and everything that goes with the sea. Now, how that plays out in a home offers a tremendous number of possibilities. You could go with a rustic approach that includes weathered rope and iron elements which define humanity's interaction with the sea. Or you could go with a clean, minimal approach that emphasizes the natural openness of the sea.
Nautical color palettes can range from grays and light blues associated with the water to brighter pinks, yellows, oranges, and reds associated with the coastal sky. It really comes down to your personal preference. In time, you can learn how to blend colors and other design elements and nautical decor to bring the comfort a well-designed room can offer.
Nautical Decor: The Elements of Style
To reiterate, the natural role of the water so important to us for a number of different reasons. You can bring some of those natural elements into a room with found elements, like driftwood, as well as coastal sculptures or coastal artwork and prints. As we mentioned, color plays a big role in nautical design. Blue is the most common color associated with nautical design and decor. The various shades of blue recall both water and sky, which are peace-bringing colors.
White and light blue are quite serene, whereas white and dark blue gives a nod to classic Navy uniforms all over the world.
Wood, because it naturally washes up on shore and was the building material of ships for centuries is very common in nautical decor. Side by side with wood was often rope. From traditional rope ladders to a variety of different sailing knots, rope is abundant in nautical decor. There is room for metallics in nautical design, too, but it should remain true to theme. That's why brass, which was very common for fixtures and navigational elements on ships is usually the metal of choice in nautical decor.
Nautical Decor in the Living Room
A well-done coastal living room is subtle. Remember, this is your primary living space, so it is no the place be heavy-handed with the decor. Keep it fun and fresh. Your base color palette should stay fairly neutral, with creams and sands, and pops of color for accent. Once your colors are picked out, you should look at incorporating some textures. This is where rope comes in handy. Jute and sisal are common in elements like hammocks and coastal area rugs. Feel free to work in some nautical symbols, but don't go overboard (pun intended). Finally, some simple natural accents, such as shells in dishes around the room, can add a tasteful final touch.
Nautical Decor for the Walls
When we look out over the water, the repetition of crashing waves has a calming effect. The simple rhythm of such a vast body in motion has a way of making our problems seem small and insignificant. It holds our interesting, but doesn't tax our attention by any means. Your nautical decor, particularly your coastal wall hangings, would do well to keep this in mind. Ideally, you want something interesting, but simple.
You can go with classic coastal prints or nautical tapestries. You could even add a personal touch with personalized nautical signs.
Nautical Decor in the Bedroom
The bedroom, because it is a little more private, can be a little more you. Feel free to incorporate some fun coastal accessories or even some tasteful coastal-themed sculptures. Perhaps even a lovely nautical vase or two. Of course, no nautical-themed bedroom would be complete without the perfect coastal bedding. You can go with classic patterns, plaids, and stripes. Or you can find one the incorporates your favorite parts of the coast, such as anchors, lighthouses, birds, or starfish.
Nautical Decor in the Kitchen
Perhaps more than any other room in the house, the kitchen is one of utility. It's also one that is a common gathering place. As such, you don't need a lot of nautical decor getting in the way. In fact, your decor should serve a useful purpose, such as coastal linens. Another clever way to incorporate nautical decor into your kitchen is with coastal-themed canisters for holding your oft-used dry goods such a flour, sugar, pasta, oatmeal, and the like.
Nautical Decor Outdoors
Because the sea is naturally an outdoor occurrence, outdoors is the perfect place for nautical decor. This is also a place where you can incorporate some elements that you like, but might be a little heavy-handed indoors, such as lanterns. Elements like mobiles, swings, mats, and other items that would fall under the umbrella of nautical garden decor are a fantastic way to bring the sea to your backyard.
Nautical Decor in the Bathroom
Bathrooms, because they are smaller spaces can be a little tricky, because even a few clunky pieces can really take over the room. It's easy to get out of control with the coastal bathroom decor if you don't start with a plan.
A common starting point with nautical decor in the bathroom is shower curtains with matching bath mats and towels. These are common elements that serve a purpose in every bathroom. Swapping swapping out what your currently have for coastal-themed versions is a simple way to bring the sea to your bathroom without letting it take over.
In Conclusion
The bottom line to nautical decor is that your relationship with the sea is unique to you and, as such, you approach to nautical decor should reflect that relationship. To ensure balance, keep in mind the basic tenets of design, including the use of color, texture, and symbols. Most of all, have fun!