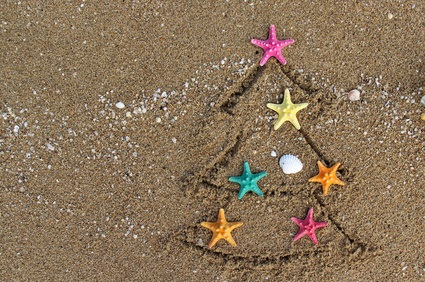 Every year, as December approaches, Christmas decorations start to take over the shelves at department stores. Everything becomes awash in a sea of red and green, which seems to drown out all other hues. Fortunately, as beach locals, we have the best decorations possible right in our own backyards. In fact, we don't even have to put on gloves to build a "snowman." For the best coastal Christmas, consider the following tips.
Everything snow can do, sand can do better.
What's not to like about a decorative element that keeps its form rather than having to worry about the mess that snow will create once it melts? Incorporate sand into your holiday approach by filling a jar or ornamental bowl with sand to hold Christmas figurines. Don't be afraid to throw some shells in there as well. Even better: make your own Christmas tree ornaments with sand and shells. Search the internet for a tiny, beachy Santa. Place him in the center of your sandy ornament.
One man's driftwood is another man's Christmas wreath.
What washes onshore can be a Christmas miracle. Driftwood is a common beach find that, when decorated properly, becomes a beautiful adornment. Arrange the driftwood with a wreath form from a craft store. Hot glue the driftwood in place. Add shells and a bow for additional Christmas touches. If you are looking for something a little different, try spray painting the wood white and using blue and purple ribbon instead of the traditional green and red to make a shabby chic Christmas wreath.
Adding beach glass can give even more coastal flair to your overall design. Add various colored beach glass to your wreath and match the ribbon to glass for seamless decor. Hang your wreath on a door or add it to the mantle along with candles and coastal garland for an eye-catching holiday display. Don't be afraid to mix different sizes to add complexity to your presentation.
Shells are your friend.
It doesn't matter if you have a collection of whole sand dollars or a myriad of incomplete conch shells. Sea shells are like the ocean's secrets; sometimes you get the whole truth and other times you're left wondering what really happened. Use your sea shells to decorate your Christmas tree, your wreath, and make the garland. Sea shells can also be glued to Christmas stockings for a festive beach accent. You can opt to paint your shells or leave them in their natural state. Either way, they add the seaside element that makes your Christmas a coastal Christmas. Mother Nature provides ideal Christmas shapes, from stars for the top of the tree to scallop shells mimicking angel wings.
Bring it all together with the tree.
More and more people are opting for an artificial tree instead of a real one. Artificial trees come in a number of colors and materials. If you are the type of person who wants a less traditional tree, you can get a colored version and then decorate it with beach accents. Shells, driftwood, and beach glass all lend themselves well to a white, teal or even purple tree. Use bows and ribbons of the same color palette to add dimension. Incorporate elements from the rest of your design into the tree as it will be the focal point that pulls the design together.
Celebrate beach living this year with a coastal Christmas! Natural finds, soft colors and a few well-placed crafts come together for a light, breezy design that will feel like the holidays in your beach home.